Dark Star Orchestra

- 4/30/2010: The Belly Up Tavern; Solana Beach, CA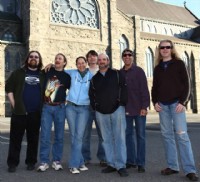 For no other reason than seeming regional proximity, San Diego is sometimes overshadowed by the Los Angeles/Orange County megalopolis; that seemingly unending, 150 mile slab of asphalt and concrete that stretches from the dusty San Fernando Valley in the north to quaint San Clemente to the south. On other occasions, though, lovely San Diego is blessed with a few of life's sweet, little gems, like pristine beaches stocked with friendly dolphins and shorebirds frolicking in the surf, and a year-round Mediterranean climate that is the envy of the nation. On a musical level, San Diego is also blessed with a show or two from a great jam band who'd apparently prefer to just skip loud, noisy L.A. altogether (like Umphrey's McGee last January, and Phish, who plays LA proper only sporadically, and not since 2004). Just last week San Diego hosted a double dose from Grateful Dead musical historians Dark Star Orchestra (DSO) (don't dare call them a "tribute band") who were topping-off their whirlwind "One Way Or Another" Tour across America's Great West at Solana Beach's Belly Up tavern. Even for those of us who came to the Dead scene somewhat late in their career, i.e., for me, during the late '80s, post Jerry-coma period; DSO is always a fun night of heady nostalgia. It's quite heartening to see anxious (and surprisingly young!) Dead fans still passing time outside each night's show by kicking the hacky sack around, flipping Frisbees, and selling their wares – just like a vintage Dead show of old. Many who hadn't seen DSO recently wondered how the band is faring in the wake of John Kadlecik's surprising departure, DSO's resident "Jerry" who left to tour with Bob Weir and Phil Lesh's latest Furthur incarnation. But the curious didn't have to wait long.
DSO's opening Friday night gig (my hands-down favorite of this monster two night stand) was full of monumental moments where the "new" Jerry, namely the insanely-talented Stu Allen from the JGB Band, blew everyone away with his sheer guitar artistry and uncanny ability to capture classic Garcia musical stylings. Another fun aspect of any DSO show, other than admiring these amazing musicians who don't just recreate a Dead show as much as they re-interpret them, is looking for the little clues as to what era the show could be from (...how many mike stands?...hmmm, why are they playing "Althea" during a '70s show?, etc.). Well, from the four mike stands dotting the stage on this night, it seemed obvious that this was to be a '70s show calling for Donna sound-alike Lisa Mackey. The set kicked off with a pretty rare opening "Minglewood," fronted by Bobby lookalike Rob Eaton. To me, this unique first song choice meant the setlist must either be a quirky Sunday show from the Dead's distant past or one of DSO's original setlists; no way of knowing for sure just yet. Other clues weren't easily forthcoming either, what with rather typical first set tunes like a shining "Loser," a nice "El Paso" and a serviceable "Ramble On Rose" coming along in rather routine order. However, it was Eaton's rare first set take on "Estimated Prophet" that really got the audience interested and involved. Not only does Eaton apparently select the band's nightly setlist, which has got to be a laborious chore in itself, but it's the panache with which he interprets his various Bobby-era incarnations, with suitable hair flips and other Bobby "I'm a rock star" (circa 1970s – 1990s) mannerisms, that truly gives the band its inherent "Dead-ness." This "Estimated" was inspired too, not only benefitting from perpetually-smiling Mackey's apt harmonies, but it truly soared for this home state crowd when the "California" choruses came around repeatedly.
While "Estimated" was a welcome first set surprise, I don't think anybody was prepared for what followed from Allen, namely, a nearly ten-minute "Peggy-O" for the ages. This version not only featured some suitable scratchy Garcia-like vocals, but it was the guitar solos – so lilting and full of pathos were they – that actually brought goosebumps to necks and arms, well at least mine. I could tell that Allen was moved too. I swear I could see tears in his eyes as he delivered those classic tragic-love-song lyrics. The rather somber, thoughtful mood was then shattered by the early drum beats and Rob Barraco's snazzy keyboards of "Good Lovin" that sent the mood into sheer unabashed joy in nothin' flat. A pretty standard "Mississippi Half Step" was then followed by a decent, workable "Music Never Stopped." The first set surprises didn't end just yet, though, as the band lit into a raucous set-closing "Scarlet Begonias" that, although it lacked a to-die-for segue into "Fire on the Mountain," it once again allowed Allen to show off his masterful Garcia-chops, as well as giving bassist Kevin Rosen some much-needed time in the musical sun. At this point, it was fairly apparent that this rollicking show was from the late, great 1970s! Hell, that was nearly a two-hour first set!
After a long set break worthy of an early '90s stadium show, which also allowed fans to get their, um, nicotine fixes outside, DSO returned with another eclectic set of classic Dead chestnuts. "Samson and Delilah" is always a fun tune, especially as an opener that can sometimes set the tone for what's to come. But that tone was only enhanced by the early, highly memorable guitar riffs of "St. Stephen," thus launching the Dead worshippers into near-delirium through what would be a classic three song triptych: wending its way through its more byzantine flourishes to the pounding thrills of "Not Fade Away, into a pretty solid, heart-thumping Drums section featuring percussionists Dino English and Rob Koritz, and climaxing in a spiritual, cosmic "Terrapin Station," which was absolutely first rate. Another pathos-filled Jerry tune followed for Allen, that 1960s era anti-nuclear war rumination "Morning Dew." Closing the set was sing-a-long favorite "Sugar Magnolia" that came back for more with its built-in musical cherry-on-top "Sunshine Daydream." That 1950s throwback tune "Johnny B. Goode" was the encore, along with Eaton's reveal that this was, in fact, the set list from Sunday, February 2, 1977 at U.C. Santa Barbara. All in all, San Diego in general (and Solana Beach in particular) has a lot to be thankful for, especially DSO's two-night springtime stand in this picturesque seaside city.