Crazy Heart

- Original Soundtrack/Motion Picture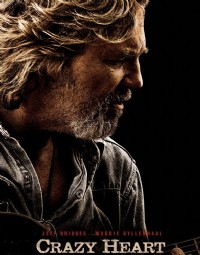 As proud diehard Americana/alternative-country music lovers, my friends and I anxiously awaited the arrival of the much-anticipated film Crazy Heart. After all, every social subgroup seemed to eventually get their token movies; skaters, break-dancers, cheerleaders, cab drivers, line-order cooks, vampires, bowlers, etc. It appeared that fans of down and out Nashville-renegade singer/songwriters had finally earned their first meaningful representation on the big screens of our little central-Pennsylvania town since Robert Duvall's memorable turn in 1983's Tender Mercies. Unfortunately, the film's impending debut seemed to perpetually evade our immediate area. After several months of disappointment and desperation, four of us logged onto Fandango, secured tickets to the nearest screening location, and drove twenty miles east to a Regal Cinema nestled in a fittingly seedy-looking section of a neighboring town. We arrived several minutes late, rushed to the entrance gate, and muttered to ourselves that we would not likely secure decent seats. After fighting our way through an exiting horde of 3-D Avatar viewers, we located the correct theater and speed-walked up the carpeted ramp as the familiar sound of previews filled our excited ears. The lights had already dimmed, so locating adjacent seats would probably be out of the question. Then something almost…"crazy" transpired. We realized that we were THE ONLY FOUR PERSONS IN THE ENTIRE THEATER. After uttering several surprised gasps and appropriate observational comments, like "holy shit," we sank back into the cushions of the choicest seats, propped our feet up on the row of chairs directly in front of us, and proceeded to watch the best damn film we'd seen in as long as we could remember.
Boasting a cast of Hollywood A-list actors like Jeff Bridges, Maggie Gyllenhaal, Colin Farrell, and (fittingly) Robert Duvall, the Fox Searchlight motion picture Crazy Heart has, thus far, garnered high praise from critics and "art-house" audiences alike, and has collected several major awards to date, including Golden Globes for Best Actor (Jeff Bridges) and Best Song (Ryan Bingham's "The Weary Kind"), as well as a Screen Actor's Guild award for Best Actor (Jeff Bridges). Oscar buzz even has both Bridges and Bingham potentially collecting much-coveted statuettes. Crazy Heart heralds the directorial debut of actor-turned-director/screenwriter Scott Cooper. Initially, Cooper wanted to document the life of legendary country music artist Merle Haggard, but was inspired to develop a film adaptation of Thomas Cobb's obscure 1989 novel, Crazy Heart, when the rights to a Haggard biopic could not be obtained. While Cobb modeled his main character, Bad Blake, after legendary Texas Swing musician Hank Thompson, Cooper re-imagined the novel's protagonist as a composite of Texan "outlaw" country stars like Waylon Jennings, Townes Van Zandt, Kris Kristofferson and Billy Joe Shaver. Cooper describes his version of Bad Blake as a kind of "fifth Highwayman," referring to eighties-era country super-group, The Highwaymen, composed of Jennings, Kristofferson, Willie Nelson and Johnny Cash. Cooper's stunning visual landscape evokes the glamour-less life and times of Blake while presenting the perfect palette for Jeff Bridges' memorable portrayal of a man at rock bottom. However, the real "heart" of Crazy Heart lies in the original music created for the film and the vintage music compiled for the film's soundtrack by musical director T-Bone Burnette, along with the recently deceased Stephen Bruton, his longtime musical collaborator to whom the film is dedicated, and musical contributor Ryan Bingham, a relative newcomer to the alternative country.
T-Bone Burnette, most famous for his work on previous music-centric films like Oh Brother, Where Art Thou? and Walk the Line, is also a respected songwriter and musical producer who has released critically-acclaimed solo recordings and worked with artists as diverse as Elvis Costello, Robert Plant and Alison Krauss. For the Crazy Heart project, Burnette and his cohorts painstakingly fashioned a fictional musical timeline for Cooper's Bad Blake and created a backlog of original catchy concert staples like "Fallin' & Flyin'" and "I Don't Know" for Blake to perform for nostalgic audiences. Ryan Bingham contributed the haunting "The Weary Kind," which became the film's definitive musical centerpiece. Throughout the proceedings, Jeff Bridges plays guitar with Waylon Jennings swagger and sings with Kris Kristofferson grit in his gullet. T-Bone rounds out the film's original material with a collection of relevant supporting tracks that features such distinctions as the Delmore Brothers, with their pre-WWII high harmonies, and the unmistakable lilting vocals of Kitty Wells. Key tracks by more contemporary artists like Ryan Bingham and Lucinda Williams fit comfortably amidst classics and lost jems from the Louvin Brothers, Waylon Jennings, George Jones, Buck Owens, Lightnin' Hopkins, and Townes Van Zandt.
I won't give away the ending of the film or talk at any length about such abstract and subjective constructs as redemption, but suffice to say, if you love the diverse sounds of Americana music and respect abject realism in film-making, you may consider Crazy Heart the breakout movie of 2010.
Editor's note: On March 7, 2010, Jeff Bridges did win the Oscar for Best Actor in a Leading Role for his portrayal of Bad Blake. Ryan Bingham and T-Bone Burnette also won the Oscar for Best Original Song Written for a Film (Bingham's "The Weary Kind").