| | |
| --- | --- |
| Featured News Article Results | |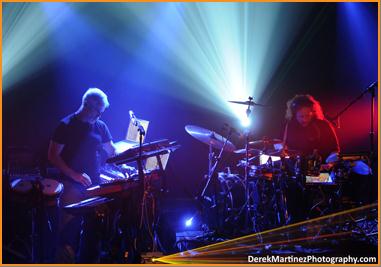 EOTO Releases 39-Song Tour Compilation
[ Nov 9, 2011 - Share ]
The cyber-kinetic bass juggernaut EOTO will release their third annual tour compilation K-Turns and U-Turns for download today, May 17th. Featuring 39 hand-selected live tracks, spanning four consecutive hours of music, the album captures the best performances of the year with crystal clear soundboard quality. The collection features songs from every genre, style, and tempo from their grueling non-stop 2010 tour highlighting the live evolution of a band that has put their unique stamp on the electronic music world. The album, which has been edited to flow from one song to the next, mirrors the feeling of a live EOTO show creating the perfect environment for on-the-fly living room dance parties and sci-fi soundtracks alike.

Since 2008, Michael Travis and Jason Hann of EOTO have taken o...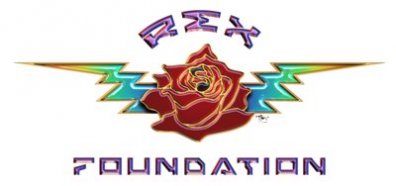 Rex Foundation Benefit "Run for the Roses": Sat., Dec. 3rd, The Fillmore-San Francisco
[ Nov 9, 2011 - Share ]
A One-Of-A-Kind Musical Evening
Saturday, December 3, 2011 - The Fillmore, San Francisco
Run for the Roses
A Benefit for the Rex Foundation
Celebrating the music of Jerry Garcia, Robert Hunter and
The Jerry Garcia Band
Featuring:
Tim Bluhm and Greg Loiacono of The Mother Hips plus Nicki Bluhm

John Kadlecik (Furthur), Melvin Seals (Jerry Garcia Band), Greg Anton (Zero), Robin Sylvester (RatDog) and Sunshine [Garcia] Becker (Furthur)
The Everyone Orchestra: An interactive improvisational experience featuring all the musicians above, plus Tim Carbone, Railroad Earth Violinist, Conducted by Matt Butler17356
The three sets of music each bring their own resonance and tribute to Jerry Garcia, Robert Hunter and the Jerry Garcia Band. The Mother Hips, celebrating their 20th anniversary as a soulful California rock an...

Electric Forest Announces 2012 Festival Dates
[ Oct 20, 2011 - Share ]
Today, Electric Forest is pleased to announce the event dates for next summer:

June 28 – July 1, 2012

Check out the announcement video here: www.electricforestfestival.com

After an exceptional inaugural year, Electric Forest is thrilled to be returning to one of the country's most beloved music festival sites - the Double JJ Ranch in Rothbury, Michigan - for another legendary weekend of music, artistry, and community.

Electric Forest is produced by Madison House Presents and Insomniac Events.17356

www.electricforestfestival.com
www.facebook.com/ElectricForest
twitter.com/#!/electric_forest
View full article...
Cincygroove.com 4 year Anniversary 11/18
[ Oct 17, 2011 - Share ]
Cincygroove.com is celebrating their 4 year Anniversary on 11/18 at The Madison Theater with ekoostik hookah, Hickory Robot, and Carole Walker

Cincygroove.com is very proud to be celebrating its 4 year anniversary on 11/18 at The Madison Theater in Covington, KY. Music for the evening will be provided by headliner ekoostik hookah and local openers Hickory Robot and Carole Walker. In the spirit of the upcoming Thanksgiving season, Cincy Groove will also be holding a canned
food drive and a winter clothing drive. Canned food will benefit the Freestore Foodbank and winter clothing will benefit St Vincent DePaul. Keep in mind these food items are ALWAYS needed: canned meat products (tuna, chicken, ham, spaghetti with meatballs, chili with meat and beans, beef stew, beans and wieners, etc.) peanut butter, canned vegetables and fruits.17356 Other non-perishable items needed include: canned soups, macaroni and cheese and p...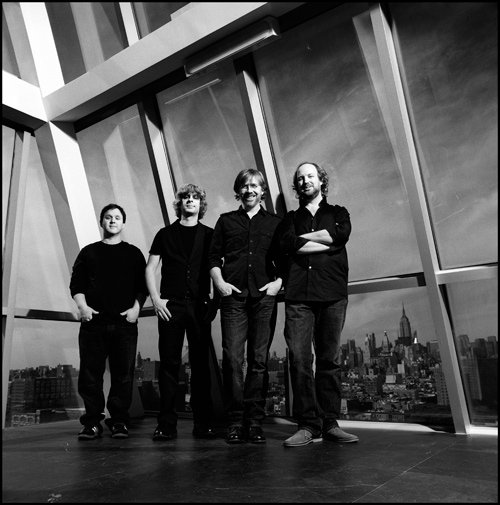 Phish Announce 2011-2012 New Year's Run At Madison Square Garden
[ Oct 13, 2011 - Share ]
At the end of December, Phish returns to Madison Square Garden in New York, New York for a four-show Holiday/NYE Run to close out 2011. The band has played 19 shows to date at MSG, beginning with its December 30, 1994 concert and including last year's three-night stand, which concluded on New Year's Day.
A limited number of tickets for all four shows are available directly through Phish Tickets' online ticketing system at http://phish.portals.musictoday.com/. The ticket request period is currently underway and will end on Monday, October 24, at Noon ET. Tickets will go on sale to the general public on Saturday, October 29, at Noon ET.
As with Phish's Summer Tour, included in the ticket price for each date is a free MP3 download of the entire show (a fully mixed soundboard recording), redeemable at LivePhish.com.17356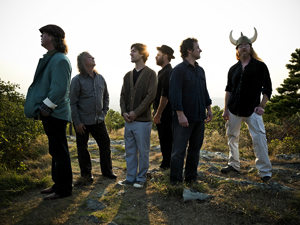 Hangtown Halloween Ball kicks it up a notch!
[ Oct 10, 2011 - Share ]

Tickets are moving fast for the inaugural Hangtown Halloween Ball set to take place at the gateway to the High Sierras on October 28-30. The three-day festival will feature a stellar genre-bending line up of some of the nation's top independent performers, including the late addition of urban-Latino sensation Ozomatli. Plus, as an exciting and unusual bonus, Railroad Earth has announced that they will be playing an improvised original score to the 1922 Horror Classic film, "Nosferatu," to kick off the festivities on Friday ev...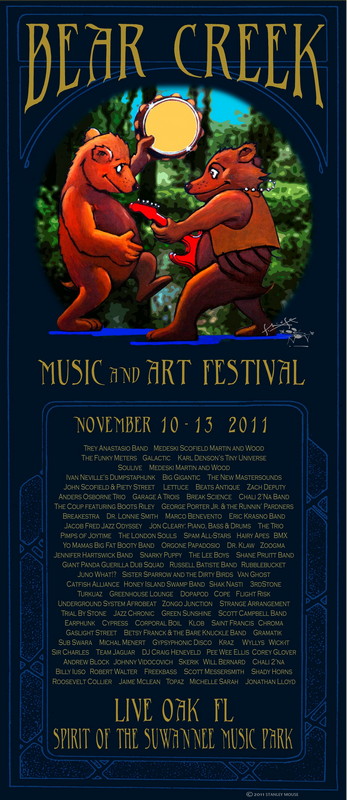 Bear Creek Music & Arts Festival Releases Daily Schedule, Pre-Party Details and More
[ Oct 6, 2011 - Share ]
Bear Creek Music & Arts Festival held this November 10 - 13, 2011 at Suwannee Music Park in Live Oak, FL has just released the daily performance schedule as well as additional details about pre-parties, costume theme nights, ticket prices and more. The festival lineup includes Trey Anastasio Band (only Florida performance), Medeski, Martin, Scofield and Wood, Galactic, The Funky Meters, Big Gigantic, Soulive, Karl Denson's Tiny Universe and many more. Full lineup details and tickets on sale now at ww.bearcreekmusicfestival.com.

MORE MUSIC: PRE-PARTIES WEDNESDAY AND THURSDAY NIGHTS
To kick off the weekend of music, Bear Creek will have an official Pre-Party on Wednesday night featuring Honey Island Swamp Band, Juno What!?, Thomas Wynn & the Believers, Gravity A, Pepper Drive, Trial By Stone, funkUs in The Music Hall. Thursday night's party - on four stages - will host Karl D...

7 Walkers Fall Tour Dates Announced
[ Sep 30, 2011 - Share ]
7 Walkers, the revered band featuring legendary drummer and Grateful Dead co-founder Bill Kreutzmann, guitarist Papa Mali, multi-instrumentalist Matt Hubbard (Willie Nelson, Fastball) and legendary New Orleans bass man George Porter Jr. (The Meters, Funky Meters) today announce a run of fall tour dates that bring them to U.S. points south and west. Included along the tour are stop in hometowns of New Orleans and San Francisco, where very special local guest musicians are expected to sit in with the band. With George Porter Jr. also on a reunion tour with The Meters this fall, look for 7 Walkers Fall Tour to alternate bass players between shows, with select performances to feature Dirty Dozen Brass Band founder and sousaphone player Kirk Joseph Jr., and Tea Leaf Green's bassist Reed Mathis (who also appears on the 7 Walkers' album).

Co-written by Papa Mali, 7 ...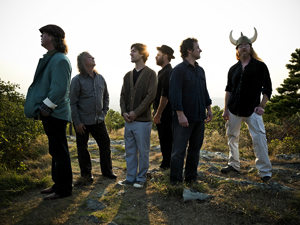 Railroad Earth Kicks Off Fall Tour 2011
[ Sep 28, 2011 - Share ]
Railroad Earth will hit the ground running this fall with a Southern tour that kicks off right at the turn of October. The six-piece band will start their tour on the Eastern Seaboard, with dates in Delaware and Virginia, before rolling the train Southwest to Tennessee, Ohio, Arkansas, Louisiana and Alabama, and then turning back East for shows in Georgia, Florida and North Carolina. October wraps up with their highly buzzed-about glam-camping event, the Hangtown Halloween Ball, in Placerville, CA on Halloween weekend (Oct 28-30).

Over the past decade, Railroad Earth has built an ardent and passionate national fanbase through a winning combination of unique live performances and instrumentation, evocative lead vocals and harmonies and lyrically significant, yet highly "singable" songs. Lead singer, Todd Sheaffer, sings of our nation's changing landscape and social ills with ...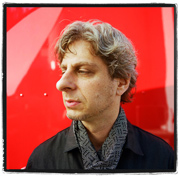 Mike Gordon Fall Weekends Announced; Pre-Sale Has Begun
[ Sep 28, 2011 - Share ]
Mike and his band return to the road this Fall for a short and sweet handful of shows spanning two weekends on the East Coast in support of his studio album, Moss.
During the first weekend, the band will return to the impenetrable state of New Hampshire and perform in Portsmouth and Lebanon. Three weeks later the band will pick back up and play Pawtucket, RI and Albany, NY. The band will also return to Northampton, MA, where they played their inaugural gig together back in 2008.
A limited number of tickets for Portsmouth, Lebanon, Pawtucket, and Albany are available NOW via a very fast real-time fan pre-sale at http://mikegordontickets.rlc.net. The fan pre-sale ends TOMORROW, Thursday, September 29th at 5PM ET. A separate pre-sale is underway for Northampton at http://bit.ly/mg_nh, which will end on Friday, September 30th at 9:59AM ET.17356
Tick...

Keller Williams Announces Fall Dates and NYE Plans
[ Sep 21, 2011 - Share ]
Since Keller Williams first appeared on the scene in the early '90s, he has helped define the term independent artist. Looking at the diversity of his fall plans, you can certainly ascertain why. Look for Keller on tour through the end of the year in several of his various incarnations, including his newest collaboration – The Travelin' McCourys Featuring Keller Williams – debuting this fall at Magnolia Fest, Voodoo Music Festival, and others. Also announced today, a New Year's run: beginning December 28 at The Lincoln Theatre in Raleigh, North Carolina. Then on December 29 and 30 the show rolls to The National in Richmond, VA and Norfolk's NorVa respectively, with Keller Williams on stage for one set solo and one set with his project Kdubalicious, plus very special guests The Pimps of Joytime. For New Year's Eve, Keller & The Keels ring in 2012 at Brooklyn Performing Arts Center in Wilmington North Carolina. All four venues will also ho...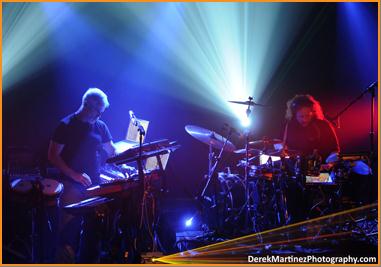 EOTO Launches National Fall-Winter Tour
[ Sep 18, 2011 - Share ]
With their 2011 Sonic Bloom appearance, the two-headed bass juggernaut EOTO has officially hit the 5 year mark. What began, half a decade ago, as a late-night, after-party experimental electronic project has evolved into a full-fledged headlining behemoth. The drummer-producer team of Jason Hann and Michael Travis has pioneered the art of live dubstep, not only bringing the big, brash, bass-heavy EDM movement to the concert setting, but crafting it on stage and on the spot more than a hundred times a year. The only proper way to honor this milestone is with a monster fall tour, and EOTO's doing just that.

Almost 40 dates are planned for the rest of September and the entire month of October. The duo will close out festival season with View full article...
Del McCoury Band releases "Old Memories: The Songs of Bill Monroe
[ Sep 17, 2011 - Share ]
(Nashville, TN)…This September marks the 100th anniversary of Bill Monroe's birth, and not surprisingly, there have already been plenty of tributes to the Father of Bluegrass Music, with more still to come. But when listeners turn to Old Memories: The Songs Of Bill Monroe--released digitally September 27th with a vinyl release following on October 25th--what they hear won't be the result of a carefully crafted campaign, but the result of a decision that was as spontaneous as it was inevitable—because for Del McCoury, Bill Monroe's legacy isn't just a matter of history, but something that's as immediate and personal as the guitar he picks up every time he gets ready to play.
"I had done songs of his on different albums I made through the years," says McCoury, who served a life-changing year with Monroe's Blue Grass Boys from 1963 to early 1964...

Soulive & Lettuce Announce Royal Family Ball Fall Tour
[ Sep 17, 2011 - Share ]
Brooklyn, NY -- Preeminent soul-funk trio Soulive, fresh off hosting their first ever festival The Royal Family Affair earlier this summer, have announced a full-on Royal Family Ball tour for Fall 2011. The run will see the return of Soulive to eight cities, including New York City, Chicago, Boston, Portland, Pittsburgh, Falls Church, Philadelphia and a two-night Halloween blowout in Burlington. Joining Soulive on all of the Royal Family Ball shows will be their co-conspirators in Royal Family Records, the seven piece funk tour de force Lettuce.

Additional Autumn dates have Soulive appearing in select cities including Coral Gables at the University of Miami, Sedona, Albany, the Bear Creek Music Festival in Live Oak, FL and more.17356

In conjunction with the Fal...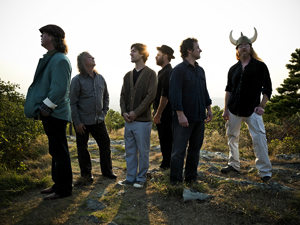 Railroad Earth and Pet Projekt Announce The Hangtown Halloween Ball
[ Sep 12, 2011 - Share ]
Grab your tents, costumes and dancing shoes, Railroad Earth, in conjunction with Pet Projekt, has booked a two-night Halloween extravaganza in beautiful Placerville, CA for the inaugural Hangtown Halloween Ball. The glam-camping event will take place at the beautiful El Dorado County Fairgrounds on October 29 and 30th and will feature over 25 of the nation's hottest touring acts along with two complete sets with Railroad Earth each night.

Set to take place at the gateway of the High Sierra's the location boasts more than just breathtaking views. The El...

Bob Weir's TRI Studios Hosts Slightly Stoopid and Guests
[ Aug 28, 2011 - Share ]
(San Diego, CA – August 24, 2011) Slightly Stoopid is pleased to announce their live debut at Grateful Dead/Furthur founding member Bob Weir's TRI Studios on Tuesday, September 13, 2011. The band will perform two sets (acoustic & electric) and the performance will feature guests Karl Denson (Greyboy Allstars, Tiny Universe), Ian Neville (Dumpstaphunk, Funky Meters), and Don Carlos (Black Uhuru), with plenty of surprises in store. In between sets, fans can partake in the first-ever live Stoopid Q&A from TRI Studios, communicating with the band via onscreen Facebook and Twitter feeds.

TRI Studios is a state-of-the-art performance studio, broadcasting live HD video and audio streams via the Internet. The show will air live at www.tristudios.com at <...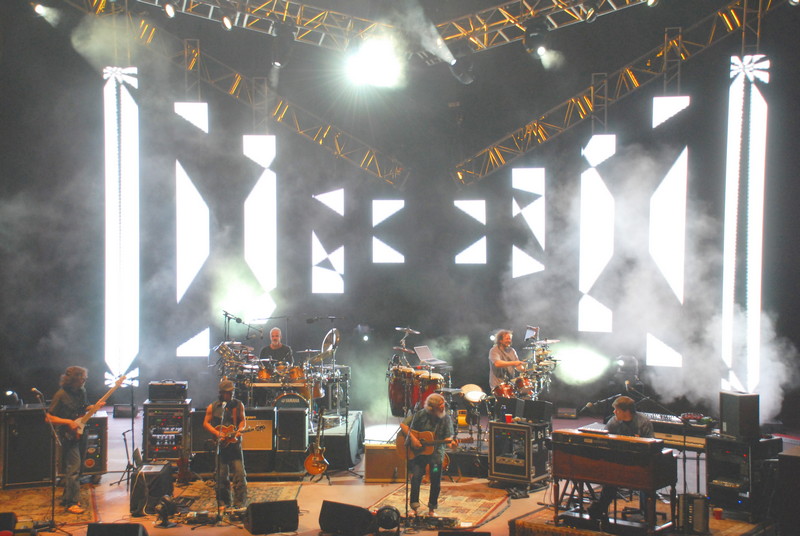 The String Cheese Incident Announces Fall Dates
[ Aug 23, 2011 - Share ]
Today, The String Cheese Incident announced their first multi-city run in four years. "Roots Run Deep" 2011 begins Thanksgiving weekend and travels through southern and eastern U.S. historic venues including Atlanta's legendary Fox Theatre, a return to the newly re-opened Georgia Theatre, Nashville's landmark Ryman Auditorium (with a special acoustic first set), and a two-night stand at New York City's magnificent United Palace. The full list of tour dates is included below, and tickets go on sale beginning August 25 at www.stringcheeseincident.com.

The String Cheese Incident has only made limited appearances since 2007, so "Roots Run Deep" affirms the band is back together and ready to rock. In 2009, SCI sent waves through the music community when they broke their almost three year silence by announcing they would play a headlining...

Willie Nelson and More Pay Tribute to Sara Hickman on Best of Times
[ Aug 23, 2011 - Share ]
Nashville, Tenn. - With an unwavering dedication to increased awareness and funding for arts education and a passion for art and the creative process, Sara Hickman provides a unique and powerful voice for women, her generation and the value and importance of the arts in school. It is no wonder more than 30 Texas music legends including Willie Nelson, Rhett Miller, Shawn Colvin, Robert Earl Keen and dozens more have come together to both pay tribute and add to her philanthropic endeavors with The Best of Times. Sales of this compilation CD, available nationwide TODAY, August 23, 2011, will benefit Theatre Action Project (TAP), a non-profit that brings art, music and theatre to Central Texas schools.
The 38-track double disc project was inspired by a recent slash in arts funding by Texas State Legislature. "I wanted to utilize my position as the Official State Musician of Texas to promote families being creative together," says Hickman. "Many times this st...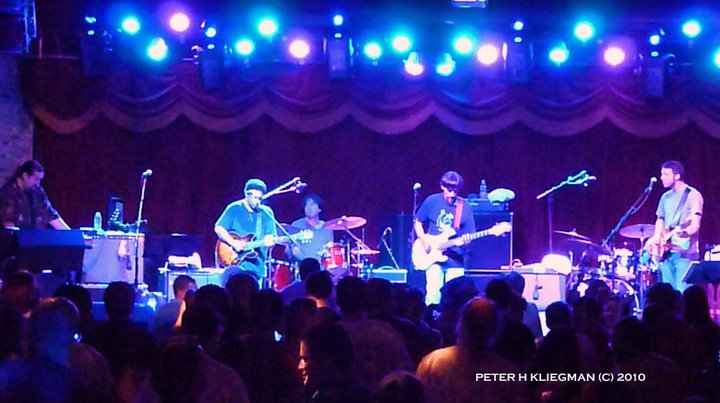 The Jam Stampede Remembers Ron "Pigpen" McKernan
[ Aug 23, 2011 - Share ]
The Jam Stampede remembers Pigpen and will do a healthy dose of Pigpen on the day of his birthday, September 8. Plenty of Dead tunes will abound and we do one more spin around the sun for Pig.
Starting a rock band was actually Ron McKernan's idea, and he was its first front man, delivering stinging harmonica, keyboards, and beautiful blues vocals in the early years of the Warlocks/Grateful Dead. Nicknamed "Pigpen" for his funky approach to life and sanitation, he was born into a family that was generally conventional, except for the fact that his (Caucasian) father was an R & B disc jockey. And that sound put Pig's life on the rails of the blues from the time he was 12. Liquor, Lightnin' Hopkins, the harmonica and some barbecue - it was an unusual life for a white kid from San Carlos, but it was Pig's life.17356
Mexicali Live 1409 Queen Anne Road Teaneck, NJ 07666
Show Date: September 8, 2011
Tickets ...

iClips to Live Stream STS9 from Red Rocks Amphitheatre, Sept 9 and 10
[ Aug 17, 2011 - Share ]
The time of year has come again for STS9's annual stop at the famed Red Rocks Amphitheatre. Since their first performance in 2003, the band has made Red Rocks a home away from home having played the venue over 10 times now with a total supporting cast of nearly 30 cutting edge acts in their prime sharing the stage with them through the years. In that time, they've been joined at Red Rocks by a plethora of music legends from Thievery Corporation, Jurassic 5, Pretty Lights, Bassnectar, Talib Kweli, The Glitch Mob, Ghostland Observatory and more. Every show at Red Rocks with STS9 is an event, full of surprises, musically and visually.

This year sees the band kicking off their Fall Tour in classic style at Red Rocks Amphitheater on September 9th & 10th with a great line-up including Snoop Dogg, Up Until Now, Savoy and LTJ Bukem. This year's opening acts will continue the tradition of diversifying the lineup by bringing in Hip-Hop legend Snoop Dogg and Drum n&r...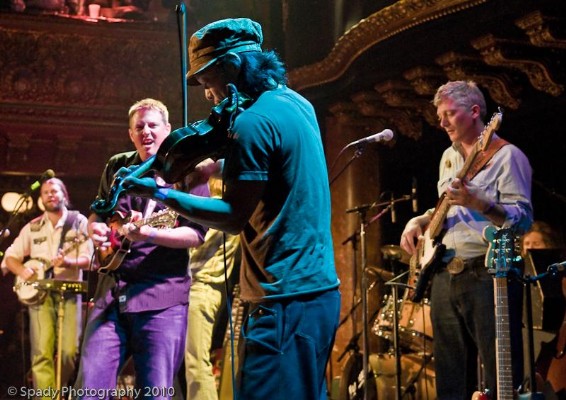 Poor Man's Whiskey - Fillmore, SF Darkside of the Moonshine, w/Michael Kang – Nov 11, 2011
[ Aug 17, 2011 - Share ]
Poor Man's Whiskey will perform their incredible bluegrass interpretation of Darkside of the Moon at the Fillmore, San Francisco on Nov. 11th, 2011. The band has not performed the Darkside of the Moonshine in San Francisco since 2008. This time around, PMW has Michael Kang (String Cheese Incident) sitting in on the fiddle. Michael will add a new dimension to this high energy performance that showcases the bands take on this Pink Floyd classic in its entirety.
This show will be special on a lot of levels. This will be the bands first time headlining the Fillmore and they could not be more excited. In addition, they will have the "West Coast Guitar Wizard", Sean G. Lehe (Izabella and The Bumptet) on guitar for his first Darkside performance. Sean has now officially joined the band for the remainder of the 2011 tour schedule. His broad range of talent bridges the gap between bluegrass and j...

Yonder Mountain String Band's 6th Annual Harvest Music Festival
[ Aug 16, 2011 - Share ]
Colorado's acclaimed neo bluegrass quartet, Yonder Mountain String Band, will host the 6th Annual Harvest Music Festival at Mulberry Mountain in Ozark, Arkansas from October 13 – 16, 2011. Home to two nationally celebrated festivals – Wakarusa and Harvest Music Festival – Mulberry Mountain stands as one of the country's most remote and scenic live music venues. A family friendly and community focused musical extravaganza, Harvest Music Festival brings fans and their favorite bands together for an intimate 4-day affair amid the beautiful autumn foliage in a premier destination. Festival attendees rave about Mulberry Mountain as being a standout setting for live music as well as an exceptional place for hiking, biking, fishing, river-rafting and disc golf. For detailed information, please visit www.yonderharvestfestival...

Greensky Bluegrass Release 'Handguns' October 4
[ Aug 10, 2011 - Share ]
An independent band nationally-recognized for their live show, Greensky Bluegrass defy the boundaries of acoustic music with their self-produced fourth studio effort, Handguns, released on October 4.

This new studio offering is a brave expression of what separates their original music from the rest of the bluegrass genre. For years, while the Kalamazoo, MI band has been gaining recognition for their high energy live show, Handguns proves that they can handle themselves in the studio as well.

Recent internet chatter would have you believe that the entire music industry is lost in a vast and inescapable dust bowl; everything that was once thriving and sustainable has now dried into a mere husk of what it once was. But lest we forget, bands used to make their living on the road, playing in front of new audiences every night. Albums were something that were recorded in between tours and then sold on the road to help keep gas in...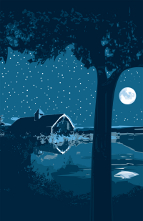 Shoe Fest: Roots Rock at its Best
[ Aug 10, 2011 - Share ]
Chicago, IL (July 27, 2011) Shoe Fest is proud to present a three day outdoor music camping event exclusively featuring live music performances, September 9-11, 2011. The historic Stonehouse Park in Earlville, IL will host the festival in its first year.
Great American Taxi, Kyle Hollingsworth Band and Split Lip Rayfield will be joined by Chicago regional acts such as Family Groove Company, Mr. Blotto, The Henhouse Prowlers, Strange Arrangement and Old Shoe. From bluegrass to jazz and roots to funk, Shoe Fest displays a very diverse range of organic music on two stages with non-opposing schedules.
Stonehouse Park offers an incredible setting for a music festival and is conveniently located only 90 minutes from Chicago. There are approximately 100 premium campsites with water and electrical hookups that wi...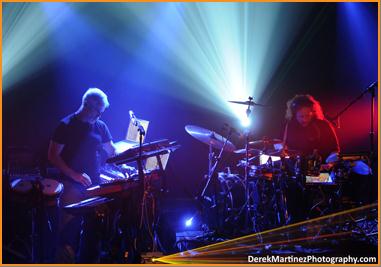 EOTO Kicks Off Fall Tour With Free Live Download
[ Aug 5, 2011 - Share ]
2011 marks the fifth anniversary for the nationally touring outfit EOTO. The project that started as a late night experiment has grown into a full-fledged headlining machine complete with all original HD eye candy. To celebrate their success, the band is releasingtheir highly sought- after performance from the 2011 SONIC BLOOM festival for free download. Coincidently, this will be the bands 400th live release since their 2006 inception. With performances booked around the country and special VIP events planned for fans along the way, there is no doubt that EOTO will be closing out the year with a bang.

After a highly successful summer filled with headlining festival appearances, EOTO will embark on a large national tour with dates booked across the country including stops in Missouri, Oregon, ...

Trey Anastasio Band Fall Run 2011
[ Jul 27, 2011 - Share ]
Trey Anastasio Band will play a handful of shows this fall, with two Florida festival appearances bookending the short outing. TAB will perform at the Langerado Music Festival in Sunrise, FL for the first time since 2007, headlining the main stage on Sunday, October 9. The band will play shows in Montclair, NJ, Silver Spring, MD, Charlotte, NC, Charlottesville, VA and Atlanta, GA before returning to Florida to headline the Bear Creek Music Festival in Live Oak on Saturday, November 12.
The run will mark the return of the septet that debuted on his 2010 winter tour, featuring Russ Lawton (drums), Tony Markellis (bass), Ray Paczkowski (keyboards), Russell Remington (tenor saxophone and flute), Jennifer Hartswick (trumpet and vocals) and Natalie Cressman (trombone and vocals).17356
Tickets for the festivals are on sale now. Tickets for the Montclair, Silver Spring, Charlotte and Atlanta shows will be available through a real time presale beginning Friday, July 29, at 10...

YarmonyGrass Festival Next Weekend
[ Jul 26, 2011 - Share ]
Ticket sales are underway for the 6th annual YarmonyGrass festival set to take place on the Colorado River from August 5th-7th. The boutique festival aims to cater to the vibrant outdoor sports and music community boasting a prime location for river rafters, single track bikers and fishing enthusiasts during the day and each night plays host to one of the best string-centric outdoor music events in the Rockies. This year's line-up will feature bluegrass legend Peter Rowan along with Greensky Bluegrass, Emmitt Nershi Band, The Grant Farm with Keith Mosely and Colorado's newest starlets, Head for the Hills among others.17356


YarmonyGrass Festival
August 5th -7th
Rancho Del Rio, Colorado

The Disco Biscuits Release Latest Studio Album – Otherwise Law Abiding Citizens
[ Jul 13, 2011 - Share ]
PHILADELPHIA, PA - Released exclusively at Camp Bisco as the gates opened on Thursday, the Disco Biscuits' latest studio album - Otherwise Law Abiding Citizens - features the studio incarnations of many of the group's live show fan favorites in addition to some of the band's latest material.
Advance copies of Otherwise Law Abiding Citizens were sold to eager fans as they waited in line to enter the sold out Camp Bisco X. Copies were available throughout the weekend at the festival merch tent and at meet and greets with the band members. The band's annual, 3-day, namesake festival saw a maximum capacity crowd of 25,000 on hand to witness the surprise release, which served to commemorate 10 years of Camp Bisco.17356
Fresh off of a high-energy tour in the fall of 2010, The Disco Biscuits recorded Otherwise Law Abiding Citizens in short order at Studio 4 in Conshohocken, PA with Grammy Award-winning producer Phil Nicolo, whose credits inc...

N. Michigan's HOXEYVILLE Festival Announced with Umphrey's McGee, Mickey Hart Band, Greensky Bluegrass, Dumpstaphunk, Todd Snider & More Aug 19-21
[ Jul 13, 2011 - Share ]
Wellston, MI – The 9th annual Hoxeyville Music Festival, held August 19-21 in the Heart of the Manistee National Forest in northwest Michigan, announces a diverse lineup including fusion masters Umphrey's McGee, Grateful Dead drummer Mickey Hart Band, Michigan's rising newgrass stars Greensky Bluegrass, New Orleans-funk infused Ivan Neville's Dumpstaphunk, satirist songwriter Todd Snider, reggae pioneers The Itals, Umphrey's side project Digital Tape Machine and many more.
The Hoxeyville Music Festival is held on 85 acres of pristine North Country farmland and hardwood forest located next door to Kestelwoods campground which includes a swimming pool, showers, plug-ins, dump station and wireless Internet. As in years past, the festival site also features a disc golf course with a glow course, a variety of VIP and ...

The Big Up Fest Announces Performance Schedule & More
[ Jul 13, 2011 - Share ]

Ghent, New York, July 12, 2011-The Big Up Music & Arts Festival has announced their performance schedule for the second annual installment of the festival set to take place July 28, 29 and 30, 2011, at Sunnyview Farm located in Ghent, New York.

Headlining the event is EOTO, one half of the Colorado-based band The String Cheese Incident with players Michael Travis and Jason Hann. Also headlining are Tipper, Big Gigantic, Digital Tape Machine, RAQ, Marco Benevento, Abakus, Ott and 60 other high energy performances scheduled over three days of the festival. The full performance schedule can be found here: www.thebigup.com/2011-music-schedule.17356

In addition to the performance schedule, the festival organizers have put together a solid lineup of daily activities to keep people busy from geocaching expeditions, workshops, yoga, astronomy, costume parties and much more.

<...