2015 Disc Jam Music Festival Line Up Announced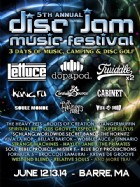 (Barre, MA; March 4, 2015) Disc Jam Presents is proud to announce the lineup for the 5th annual Disc Jam Music Festival, held at Camp Coldbrook in Barre, MA. Featuring Lettuce, Dopapod, Twiddle x2, Kung Fu, Consider the Source, Cabinet, Soule Monde, Pink Talking Fish, The Heavy Pets, Viral Sound, Roots of Creation, Dangermuffin, Spiritual Rez, Otis Grove, Lespecial, Supersillyus, Schlang Live Band, The Hornitz, Viva La Hop, Bella's Bartok, Wobblesauce, Fennario, Strange Machines, Hayley Jane & The Primates, Soul Rebel Project, Mister F, Blue Boy Productions, Formula 5, Broccoli Samurai, Krewe de Groove, West End Blend and Relative Souls, the New England festival kicks off on June 12 and runs through June 14 amid the rolling hills of Central Massachusetts.
Disc Jam 2015 features 3 Days of Music, 50+ Musical Performances, 2 Disc Golf Tournaments, 3 Stages, Late Night Silent Disco, Grass or Woods Camping, Food and Craft Vending, Kids Activities, Late Night Acoustic Sets, Disc Golf Clinics, Live Painting, Art Installations, Yoga Sessions, Hula Hoop and Flow Art Workshops and much more....
Jam Along the Creek V

We are excited to announce that the Golden Gate Wingmen will be headlining Jam Along the Creek V on June 13th. The 3 day event is set to take place at Sunsational Family Campground in Millmont Pa. A gorgeous 40+ acre campground on Penns Creek.
Featuring swimming holes, great fishing, kayaking, bathrooms, showers, playground, swimming pool, late night pool party, community fire, FREE CRAFT VENDING and music from noon - 3 am....
Electric Forest 2015 Announces Artist Lineup

Rothbury, Mich. – Today, Electric Forest (EF) revealed the artist lineup for the 5th annual music and camping festival taking place June 25-28, 2015 in Rothbury, Michigan. Known for showcasing a mix of roots, rock and jam-style acts alongside some of dance music's most relevant performers, Electric Forest 2015 again delivers a diverse lineup of over 100 established and emerging artists performing across 7 stages. For the 5th year in a row, Electric Forest welcomes back fan favorite The String Cheese Incident (performing 3 shows), plus heavyweights Bassnectar, Skrillex, Kaskade, Flume and Big Gigantic.

Other acts include: Edward Sharpe and the Magnetic Zeros, Joe Russo's Almost Dead, Yonder Mountain String Band, Odesza, Paul Oakenfold, Lotus, Carnage, Carl Cox, G-Eazy and Flux Pavilion. The Silent Disco returns for another magical year, hosted by HUSHconcerts....
The String Cheese Incident: The Sin City Incidents - 2/13/2015 - 2/15/2015: Brooklyn Bowl Vegas; Las Vegas, NV

Sin City! This past Valentines Day weekend, the land of fun, debauchery and bad Elvis impersonators played host to a horde of dedicated fans old and new who came from all over to be part of the last stop of The String Cheese Incident's Winter Carnival tour. Dubbed the Sin City Incidents, fans and newcomers alike were treated to three sold out nights at Las Vegas' number one live music venue, Brooklyn Bowl Las Vegas.
As with most opening nights, the energy was palpable. The crowd came ready to rage. Dressed in matching black and silver bowling shirts, the band came out ready and did not dissapoint! From the opening bars of "Close Your Eyes" the first set gave the standing room only crowd a weekend to look forward to. With an early nod to the Incident's host city, they played a cover of "Ooh Las Vegas" then had the crowd hit that "Sweet Spot" before giving the them the "Best Feeling". The set wrapped up with a reminder that "This Must Be the Place (Naive Melody)" before Kang let the crowd know they were "Beautiful". ...
Tesla - 1/28/2015: Emo's Austin, TX

Capping off their stay in Texas, Tesla came to Rock Austin Wednesday night. Emo's packed in a full house and by the time they came on stage you could feel the energy in the room and the love the crowd had for the band. Opening with the power jam MP3 from their 2014 album Simplicity, and then following it up with Edison's Medicine, the band let it be known they came to rock. The crowd had a great time listening to hits that spanned their 25 year career and were thrilled when they finished the night with Lil Suzi.
Tesla is made up of members Jeff Keith on vocals, Frank Hannon on guitar, Dave Rude on guitar, Brian Wheat on bass and Troy Luccketta on drums....
The Wild Hymns - The Wild Hymns
The Wild Hymns is the eponymous project originally intended to be either a solo album by singer-songwriter Megan Woodland Donley ( performing at the time as "Little Bird" with a back up band) or at the least a demo of her original songs. Working with York, Pennsylvania based sound-man/recording engineer/musician wunderkind Mike Couch saw the project bloom into both a full-fledged album of great merit, as well as a band to perform the songs with promise of more collaboration in the future.
The band's sound touches many musical styles, but in the broader sense sits nicely into the Modern Folk/Americana genre with leanings toward Jazz and a touch of European gypsy music. Although the band's sound can be described as a bit "Retro" (which to my ears means, in this case, well written, beautifully performed and recorded with no gimmicks or unnecessary studio frills), The Wild Hymns sound fresh, modern and very relevant. The album is a breath of fresh air in a musical world ( at least the so-called mainstream musical world) that puts artifice over heart and soul....