It's Offical, Grateful Dead Original Members To Perform Together Again One Last Time, with Trey Anastasio, Bruce Hornsby and Jeff Chimenti

To celebrate the 50th anniversary of Grateful Dead, the four original members — Mickey Hart, Bill Kreutzmann, Phil Lesh, and Bob Weir — will reunite at Chicago's Soldier Field, nearly 20 years to the day of the last Grateful Dead concert, which took place at the same venue. "Fare Thee Well: Celebrating 50 Years of Grateful Dead" will occur over three nights on July 3, 4, and 5, 2015, marking the original members' last-ever performance together. The band will be joined by Trey Anastasio (guitar), Jeff Chimenti (keyboards), and Bruce Hornsby (piano). The group will perform two sets of music each night.

Jerry Garcia's daughter Trixie Garcia announced the shows in an exclusive interview. You can check out her announcement here....
Delfest 2015 Lineup Announcement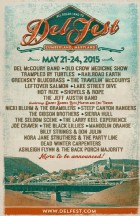 (Nasvhville, TN) – You wouldn't be far off by calling the initial line up of the eighth installment of DelFest, the DelFest "All Stars" as it features many fan favorites from the first seven years including Old Crow Medicine Show, Railroad Earth, and Leftover Salmon, as well as Trampled by Turtles, Greensky Bluegrass, and the Steep Canyon Rangers--bands that have seemingly grown up with the festival.
DelFest is also very excited to present a host of first time acts for its fans including Lake Street Dive, Shovels and Rope, Nicki Bluhm & The Gramblers, D.C. area favorites and IBMA Hall of Fame members Seldom Scene, and Billy Strings & Don Julin. ...
Wakarusa Announces Round Two of the Artist Lineup 2015

Wakarusa Music Festival is thrilled to announce round two of the artist lineup for the 2015 festival. This year's second round of artists includes Ben Harper & The Innocent Criminals, Slightly Stoopid, Chance the Rapper, Portugal. The Man and many more. The 12th annual Wakarusa will take place on the majestic Mulberry Mountain June 4-7, 2015 near Ozark, Arkansas.
After a seven-year hiatus, Ben Harper & The Innocent Criminals will be reuniting on stage in 2015. Harper and the band toured the globe nonstop for 15 years, earning legions of fans thanks to their explosive live performances. Their fans were also fueled by Harper's acclaimed studio output with albums such as "Fight For Your Mind," "The Will to Live," "Burn to Shine," "Diamonds on the Inside" and the GRAMMY® nominated "Lifeline." They featured such songs as "Burn One Down," "Diamonds on the Inside," "Steal My Kisses," "Better Way" and "Fight Outta You." The Innocent Criminals also backed Ben and The Blind Boys of Alabama on the two-time GRAMMY® winning collaborative album "There Will Be A Light." While Harper has sold millions of records throughout the world, it is on stage that he and The Innocent Criminals established themselves as one of the world's most versatile and hard-working bands....
The Wild Hymns - The Wild Hymns
The Wild Hymns is the eponymous project originally intended to be either a solo album by singer-songwriter Megan Woodland Donley ( performing at the time as "Little Bird" with a back up band) or at the least a demo of her original songs. Working with York, Pennsylvania based sound-man/recording engineer/musician wunderkind Mike Couch saw the project bloom into both a full-fledged album of great merit, as well as a band to perform the songs with promise of more collaboration in the future.
The band's sound touches many musical styles, but in the broader sense sits nicely into the Modern Folk/Americana genre with leanings toward Jazz and a touch of European gypsy music. Although the band's sound can be described as a bit "Retro" (which to my ears means, in this case, well written, beautifully performed and recorded with no gimmicks or unnecessary studio frills), The Wild Hymns sound fresh, modern and very relevant. The album is a breath of fresh air in a musical world ( at least the so-called mainstream musical world) that puts artifice over heart and soul....
Art Outside 2014 - 10/24/2014 - 10/27/2014: Apache Pass; Downtown, TX

Mother Nature was kind to the roughly five thousand attendees of the 10th annual Art Outside in Rockdale, TX. With highs in the mid-eighties, lows in the mid-sixties and plenty of shade the backdrop was set for festival goers to enjoy a perfect weekend of camping with friends, listening to amazingly talented artists, participating in workshops and admiring art and the artistic process.
It was hard to miss the art. Upon arriving to the festival grounds, you were greeted with Christian Ristow's Face Forward sculpture. A 20 foot tall face made from metal connected to an array of servo controllers that controlled a number of facial "muscles" to make a complete expression. It was fun to watch the faces made as people came and went from the controllers. Christian also brought his Fledgeling kinetic installation where you could climb a staircase on the back of a giant bird and hop in the chest of where you sit and pedal to make the wings articulate in a flapping motion. Another favorite. At night, when it got cold, Charlie Smith's sculptures kept everyone warm and Arc Attack, two giant tesla coils, kept the crowd entertained. In addition to the big installations, just about every tree saw a number of canvases where artists built up their works throughout the weekend. ...
Suwannee Hulaween 2014 - 10/31/2014 - 11/2/2014: Live Oak, FL

From the very start, this festival had enough to fill my musical void. I'm sure this was a shared sentiment from the attendees during this weekend. This was my first experience attending a festival at Spirit of the Music Park and Campground in Suwannee, Florida. It was put on by SilverWrapper and Purple Hat Productions, with the help of String Cheese Incident. It was such a delight overall that the excitement was hard to contain. This wasn't necessarily bad besides being giddy the whole time. This also isn't bad, especially for a 4 day, 7-set SCI festival in sunny north Florida.
Thursday night brought a solid set from Particle featuring guest spots Jason Hann of SCI and Aaron Magner of the Disco Biscuits. The percussive addition of Hann created an exciting Latin/West African infusion in the mix along with the added keyboard chops from Magner. From start to finish, they were dialed in and brought it to those who arrived early to see them play. They also closed with a cover of Becks "E-pro." Later, Electron gave a great performance, playing many Disco Biscuits songs, but also playing Pink Floyds "Comfortably Numb>Rock Candy>Comfortably Numb" toward the end. This was a great warmup for the weekend to be....