Get Ready for Art Outside 2015, a Fall Festival Not To Miss

Fall will be here before you know it which means so is the 11th Annual Art Outside and this year shouldn't be missed! Art Outside is a fully immersive artistic experience that encourages a communal atmosphere of exploration & provides a glimpse at the power of the unlimited human imagination.
The family friendly festival is set across a lush 100 acre pecan grove just 1 hour from Austin, TX. With dozens of engaging workshops for all ages, music that goes until the sunrises & hundreds of artists showcasing & creating their art, Art Outside is a unique experience. This year they are expanding by adding a 4th day to the lineup. With a variety of top acts like Greensky Bluegrass, Lettuce, Papadosio, Bonobo, Rising Appalachia, Nightmares on Wax, and The Nth Power, this year's festival is sure to be one for the books; 60+ artists in total (see below)...
Postcard Giveaway at Grateful Dead 50th Anniversary Concerts Aims to Spur 10,000 Socially-Conscious Actions

NEW YORK - Fans attending the Grateful Dead 50th Anniversary concerts can take home a set of four limited-edition Fare Thee Well postcards, distributed for free in the "Participation Row" area at Levi's Stadium (Santa Clara, CA, June 27th & 28th) and Soldier Field (Chicago, July 3rd - 5th).
To receive a postcard, fans just need to visit one of 17 non-profit organizations who have info tables on Participation Row, and take a designated "action." Collectively, the actions are dubbed the "17 Ways Deadheads Can Change the World. " They include things like writing letters to elected officials, posting photos to social media or signing up to be an organ donor.
A full list of the 17 actions, with links to each organization, can be found at www.headcount.org/17Actions. HeadCount, a non-profit organization dedicated to expanding civic participation through the power of music, organized Participation Row and the giveaway....
Suwannee Hulaweeen wave 1 line-up announcement

Silver Wrapper and Purple Hat Productions have announced the first round of artists for the third annual Suwannee Hulaween, hosted by seminal Colorado jamband The String Cheese Incident over Halloween weekend October 30 – November 1, 2015 at the famed Spirit of the Suwannee Music Park in Live Oak, FL.

Performing at Suwannee Hulaween is Denver's electro-soul and glitch-hop pioneer Pretty Lights, San Francisco thrash-funk eccentrics Primus, Chicago's psychedelic hip-hop hero Chance The Rapper and his live band, The Social Experiment, legendary Georgia jamtronica innovators STS9, rising Seattle electronic-indie duo ODESZA, San Diego's post punk reggae beach rockers Slightly Stoopid, and Detroit's electro-funk and live saxophone sensation GRiZ, along with Lettuce, Railroad Earth, Papadosio, The Floozies, Sam Bush Band and many more. Fans will also be treated to three nights, and 7 sets, of The String Cheese Incident, along with a theatrical, surprise cover-filled show on Halloween....
Wheels of Soul Tour Featuring Tedeschi Trucks Band, Sharon Jones and the Dap-Kings and Doyle Bramhall II - 7-12-2015: Austin 360 Amphitheater; Del Valle, TX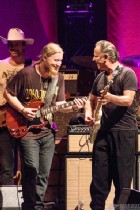 The Wheels of Soul Tour kicked off their second leg of the Tour in Texas this past weekend with a 3 day run across the state. Featuring the Tedeschi Trucks Band, Sharon Jones and the Dap Kings and special guest Doyle Bramhall II, this tour is a must see. No stranger to the Texas July sun , Doyle Bramhall and his band kicked off the night. It was hot but that didn't keep the loyal fans from getting down. It was a short set but we would see him again later that night.
Following Doyle was Sharon Jones and the Dap-Kings. After a warm-up by the Dap-Kings and then a fabulous two song set by the Dapettes, Saundra Williams & Starr Duncan (Saun & Starrs), Sharon Jones came out to give the crowd a set full of soulful energy. With songs like She Ain't a child no more and covers from Glady's Night like Heard it Through the Grapevine, Sharon Jones had the crowd out of their seats to dance with her and after schooling the crowd in some simple 1965 dance moves like The Boogaloo, The Pony, The Mashed Potato, and The Funky Chicken, Sharon got down like it was 1965 and put them all together to show us how it's done. She wrapped up her set with a story of how the meaning of Get Up and Get Out has changed for her now that she is on the other side of beating cancer and finally a rendition of This Land Is Your Land....
Widespread Panic - 6/23/15: Pinewood Bowl; Lincoln, NE

For the third straight year Widespread Panic made a stop at the Pinewood Bowl in Lincoln Nebraska's Pioneer Park. On a unusually cool night for late June, Panic brought their own heat to the stage in a 2 set marathon, featuring songs from their upcoming 12 th studio album " Street Dogs ". The band opened the night with '" Disco " and was in fine form throughout. "Poorhouse of Positive Thinking " and " Taildragger " ended the first set. The 9 song second set opened with "Radio Child " and featured high energy covers of "No Sugar Tonight/ New Mother Nature (Guess Who) before ending the set with a stellar "Tall Boy". The encore started with a beautiful version of Cat Stevens " Trouble " and finished up with " Sell Sell " another cover from Alan Page ( The Animals ) After a stop in KC, Panic will head west to add to their record number of sell outs at Colorado's Red Rocks....
Umphrey's McGee - 6/25/2015: Sumtur Amphitheater; Papillion, NE

Set 1: Room to Breathe, Piranhas, Prowler > Bright Lights, Big City, Draconian > End of the Road > Rocker Part 2
Set 2: Der Bluten Kat > Sociable Jimmy > Der Bluten Kat, Miami Virtue > The Floor, August, Search 4[1] > Andy's Last Beer
Encore: Baba O'Riley
[1] unfinished...