Jeff Mattson and Rob Eaton of Dark Star Orchestra to Sit In with New Riders of the Purple Sage at the Grateful Get Down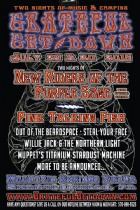 This saturday Dark Star Orchestra's Rob Eaton & Jeff Mattson will sit in with New Riders of the Purple Sage at the Grateful Get Down. The Get Down will take place at Mountain Springs Arena in Shartlesville Pa on july 29 & 30.
On Saturday afternoon July 30th take a ride 5 miles down the road to the Pinnacle Jam at Pat Garrett Ampitheater to see Dark Star Orchestra, Mysterytrain & Uncle Jake & the 18 Wheel Gang. A complimentary shuttle will be provided for patrons of both events. Music runs for this event from 3:30pm-11pm. Music at Grateful Get Down will continue during this time. On Saturday, New Riders will start late night at 11:30pm. Music goes to 4:30am...
Deep Roots Mountain Revival Announces Initial Artist Lineup
April 26, 2016 (Masontown, WV) - Deep Roots Mountain Revival Festival is proud to announce the 2016 lineup for its inaugural music and arts festival happening September 15-18, 2016. Headliners Greensky Bluegrass, Leftover Salmon and The David Grisman Sextet will be joined by Ricky Skaggs and Kentucky Thunder, Marty Stuart & His Fabulous Superlatives, Shooter Jennings with Waymore's Outlaws, Melvin Seals & JGB, Cabinet, Pigeons Playing Ping Pong, The Black Lillies, The Hip Abduction and many more. The festival takes place on the legendary Marvin's Mountaintop in Masontown, WV, the original site for the All Good Music & Arts Festival. Top-tier bluegrass, jam band, rock and country acts will convene in the picturesque mountains, effectively bringing West Virginia back to the forefront of the festival scene. A confirmed listing of the initial lineup is below. More artists including additional headliners will be announced soon....
Dumpstaphunk Kicks Off Spring Tour with Dates Across the South

Later this week the Dump Truck is getting loaded up and heading out for Dumpstaphunk's Spring tour. Starting with a 3 night run through Alabama before heading out to to their annual pilgrimage at the Wanee music festival in Live Oak, FL. Their tour continues with a stop at the Historic Scoot Inn in Austin before turning back around for a run of dates in New Orleans in late April and early May. After that, they're going back to Cali and beyond in May....
The Stray Birds - Magic Fire

Pennsylvania native/Nashville-based Americana stalwarts, The Stray Birds, follow up their critically-acclaimed 2014 release, Best Medicine, with the dynamic Magic Fire, due out August 19th, on Yep Roc Records.
Magic Fire expands the band's rich musical palate by adding drums, organ, pedal steel, piano, and other ancillary instrumentation to the core trio's acoustic guitar/fiddle/upright bass formula while maintaining and finessing their signature vocal harmonies, plaintive melodies and poignant songwriting. The Stray Birds recorded the album in upstate New York with legendary producer/musician Larry Campbell (Levon Helm Band, Bob Dylan, Willie Nelson, Paul Simon, et. al.) and Grammy award-winning Engineer and mixer Justin Guip (Levon Helm Band). The record prominently features guest drummer/percussionist Shane Leonard (Kalispell, Field Report, Sara and Sean Watkins, Ben Sollee) and boasts guest appearances by New York experimental jazz-rock musician Marco Benevento and Abigail Washburn collaborator Kai Welch (The Greencards)....
The Evie Ladin Band - Jump the Fire

Rare is it in traditional folk music to encounter an artist so overtly involved in the activity of structured teaching. But Evie Ladin is a teacher, a teacher offering beginning banjo lessons on the internet. She has also studied African dance and, according to her website, created an African Studies in Dance major at Brown University.
These seemingly disparate influences are woven together artfully on the Evie Ladin Band's newest independent release, Jump the Fire. Her graceful clawhammer-style banjo is a common thread running through the colorful tapestry of imaginative songs which, while exceptionally diverse, also seem to hang together as a whole by means of Ms. Ladin's songwriting and interpretative sensibilities. Backed by bandmates Keith Terry (bass, percussion, vocals) and Erik Pearson (guitar, bass, banjo, vocals), Evie's sound is enhanced by her and Keith Terry's unique and inventive use of "body music" or "body percussion." While the body percussion sounds can be clearly discerned on the record, it isn't until the body percussion is witnessed live that one can fully appreciate just how one-of-a-kind this highly entertaining band truly is....
Yonder Mountain String Band w/ Horseshoes & Hand Grenades - 4/2/2016: Stubb's, Austin, TX

Yonder Mountain String Band stopped through Austin on the back half their Spring 2016 tour and brought friends Horseshoes and Hand Grenades from Wisconsin with them for a night of awesome music and dancing at Stubb's in Austin. With a sound that can best be described as high-energy old-time folk music, Horseshoes & Hand Grenades got the crowd warmed up on one of the final cold nights of Spring and ended their set with a roaring ovation.
After a short break, YMSB took the stage for the first of their two sets. Starting off with Traffic Jam, the band went into a long jam that included a Bruce Springsteen cover of It's Hard Be a Saint in the City, a Del McCoury cover of All Aboard, and a couple of singles off their Black Sheep album, namely, Black Sheep and New Dusty Miller. They ended the epic jam where they started by finishing off Traffic Jam....